GE Digital Energy - Single Phase UPS

True On-line, Double Conversion Rack Mounted UPS
ABB/GE's VH Series of UPS connects the utility and your critical load, helping ensure that when the utility drops or fails, your load continues to receive a clean, constant and reliable power supply. The VH Series UPS adapts to adjusting network configurations and comes with three-year warranty. It's a 2U design for small footprints.
More info

GE Digital Energy™ GT Series UPS 1-10 kVA


True On-line, Double Conversion Rack Mounted UPS
ABB/GE's Critical PowerTM GT Series UL UPS series provides high quality power protection in a cost-effective package. The GT Series UL is a compact, true VFI (Voltage and Frequency Independent) on-line double conversion high performance device.
More info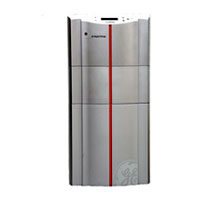 GE Digital Energy™ LP 11U UPS 5-10 kVA


On line, Double Conversion, Intelligent and Heavy Duty UPS 5-10kVA
The Digital Energy™ LP 11U Series of UPS comprises a comprehensive and high performance platform supplying information-quality power for your critical applications. Based around the LP 11 design, the UPS is easy to install and service and suits a variety of applications and environments. Although built to withstand industrial environments, its modern design and quiet operation also make it ideal for integration into an office environment..
More info